Temple Dance Mandala (Workshop for WOMEN)
$250.00
CREATING A PEACEFUL WORLD THROUGH ALIGNMENT AND MEANINGFUL CONNECTION THAT BRINGS A REJUVENATING LIFE EXPERIENCE.
TEMPLE DANCE MANDALA EMPHASISES MINDFUL INTERACTION, THE EXPRESSION OF SUPPORT, UNDERSTANDING, COMPASSION AND KINDNESS. 
INVITATION
Temple Dance Mandala is a deep practice of working with energy, body and consciousness, which combines in its structure dance movements, breath and attention skills. This practice returns us to the body, gives connection with our sacred organs and helps to root us into the earth. At the same time restore and feel connection between the earth and sun.
This beautiful dance helps to dive into the power of our true female nature.
During this powerful practice, we breathe in a certain way, consciously controlling the rhythm of breath and attention, helping our body to release blockages, traumas, negative experiences, and healing the soul. The basic form is the figure eight, the sign of infinity, which unites all the elements, directions, and qualities—and builds a balance of our energy in the body.
Women of all different ages, races and nationalities are welcome to join us!
WHAT TO EXPECT
This workshop will include a women's circle with a full (new ) moon cacao ceremony, an introduction and instruction on Temple Dance Mandala, special sweets, snacks and refreshments, a full 1.5 hours of dancing in a circle, a sharing circle, light refreshments for lunch and dinner, special fire circle, meditation, magnesium pool, jacuzzi and pool fun time and much more.
INSTRUCTOR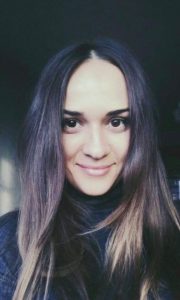 Join our amazing Temple Dance Mandala, Inna, who is passionate about dance and movements. From her childhood, she has always explored different styles: cancan, waltz, tribal, flamenco, and contact improvisation. About 5 years ago she discovered Temple Dance Mandala and met the amazing Woman Maya Mandala (www.mayamandala.com/en/ for more info), who created this beautiful practice. Inna was so inspired and decided to take part in her training seminars and became a certified Level 2 instructor. She held classes back in Moscow and she now wants to share this practice here in Canada.
This is not only a dance but also deep work with the consciousness. This practice helps her to be more in contact with her body and intuition. This beautiful practice easily changes your state of mind and helps us to feel physical tensions in the body or energetic blockages. It helps release and provide the feeling of relaxation, flow and deep clarity inside.
WHAT TO BRING
Please wear a comfortable goddess skirt or dress, jewelry. You are welcome to bring your special amulets, talismans, crystals, etc, which will be a part of our special mandala. Also please bring a water bottle, your beautiful body, open minds and loving souls.
DATES/TIME:
 Four dates are available:
Saturday,  March 18th, 10 am – 8 pm
Saturday, June 17th, 10 am – 8 pm
Saturday, September 23rd, 10 am – 8 pm
Saturday, December 16th, 10 am – 8 pm
LOCATION
We provide a safe, sacred and uplifted space for this event that supports our Temple Dance Mandala, spontaneous creative expression, and facilitates heartfelt connections and appreciation for a female community ritual. These particular  workshops will be offered at our new special location on Warden Avenue (Queensville) in beautiful unspoiled nature, as we would like you to dance barefoot freely on the grass, enjoy yourself sunbathing, having a swim in our magnesium pool or relaxing in our jacuzzi. Healthy organic vegetarian food cooked by our chef will also let you nourish your body.
INVESTMENT
Ticket for one person: $250
Please note this event is non-refundable!
REGISTRATION
Please register for this workshop 'Here' and we will be in touch as soon as possible.
You're welcome to give us a call if you have any questions regarding this event!
KEEPING OUR HEARTS BEATING AS ONE, TO THE RHYTHM OF THE UNIVERSE, WE DANCE THE DANCE!
LIVING IN HARMONY WITH NATURE IS THE DANCE WE DANCE! WHEREVER WE ARE IN THIS JOURNEY, WE KEEP OUR HEARTS PULSATING WITH THE RHYTHM OF NATURE AND OUR AWARENESS OF OUR EARTH BODY, THE ENVIRONMENT, AND HOW WE LIVE AND CONSUME!
Additional information
| | |
| --- | --- |
| Ticket Type | Saturday, March 18th, Saturday, June 17th, Saturday, September 23rd, Saturday, December 16th |