Discoveries and observations from our time in Sweden, Germany, Switzerland, and Italy.
Our trip started with a city built on water, Stockholm, and then finished with another city built on water, Venice. Both are extremely unique, vast and made for a very inspirational beginning and end to our experience.
We began our journey in Sweden, which seems very clean, organized, cultured, full of lakes & nature, at the same time industrial, civilized, however aware of challenges that they face as a nation going forward. People, in general, are incredibly helpful, somewhat reserved, regimented, and fashionable.
The country has a down-to-earth vibe, and a certain respect for the small elongated territory they live on, and a lot of mutual respect for their neighbors, Denmark, Germany, Norway, and Finland. We made a special visit to the Nobel museum, and then a Heartworks Lomi Lomi retreat in Orebro County, (3 hrs. due west by train) and post-retreat we did a short visit along the Gotta canal, with lots of bike riding and we lived in a tree stump for two days (true story!).
Next was a flight to Berlin, where we visited our Ka Huna practitioners and attended The Purpose Summit. Berlin, is spectacularly vibrant, with an International multicultural flavor, unlike most German cities. The vibe is open, progressive, experimental – its seems to have a feel of where the world comes together, for the good of the planet, not just about making money.
As a side note, everywhere we went, there was tremendous respect for our Canadian roots, attitude, PM, our way of life, the example we set for the world. We are viewed with reverence.
Next stop was Koblenz, Germany, to visit friends for a couple days, then a drive down to a small town south of Zurich on Lake Zurich to visit a Tantra friend.  Lake Zurich is very idealistic, peaceful, zen – and to make it even more interesting, we did arrive on iron man, race weekend!
We picnicked, rested and also visited another Tantra friend, got an apology from an American couple about their president, and capped off the visit by eating on a mountaintop. We were next to a hang gliding launch area, and sacred swiss cows with bells, that ended up chasing us around the mountaintop! They were very curious cows!  It was a spectacular night to remember – its not every day you get chased by cows.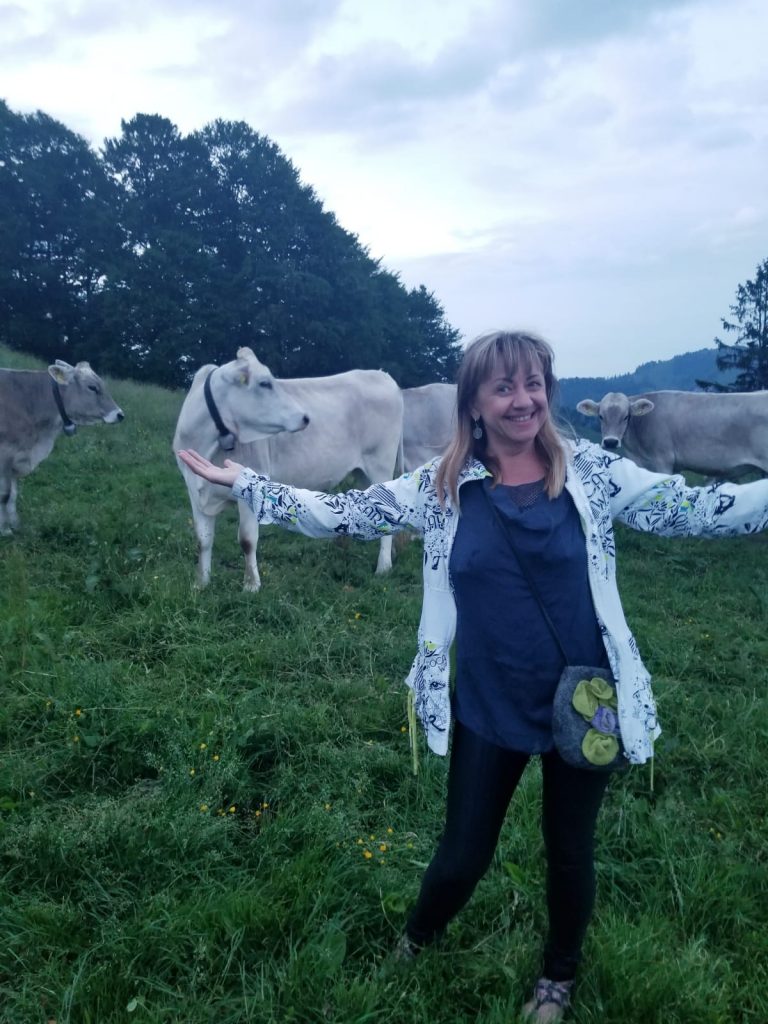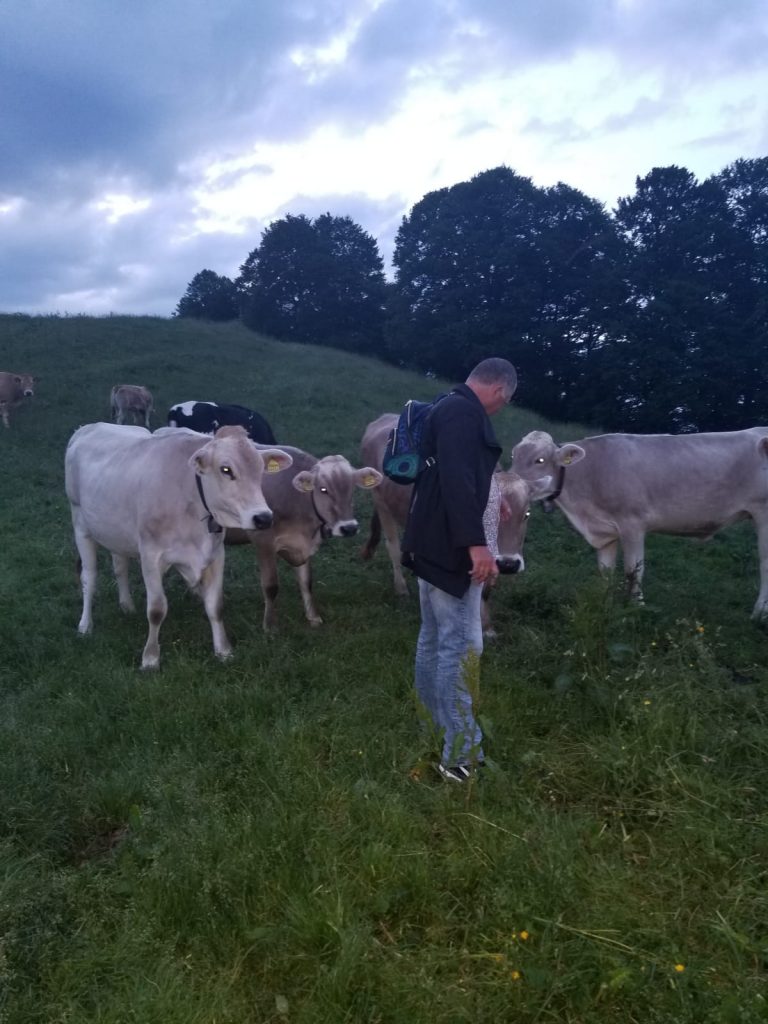 Next stop, Venice, Italy area,
As we traveled South from Rapperswil, on Lake Zurich by car, we are surrounded by fresh mountain air, the Alps, clear lakes, mountain scenery, we passed through towns such as Zug, Schwyz, Airolo, Biasca, Bellinzona, and Lugano, we see the change in culture from Swiss, German to Italian as we arrive in the Ticino area of Switzerland, – official languages are French-German-Italian and Romansh.
We looked forward to reaching Como, crossing the northern part of Italy, so we could taste some amazing Italian food, which is everywhere in sight. We just needed to pick a place, so we settled for a simple, roadside stop, which was a full restaurant – with fresh food.
Then, we headed directly to our Airbnb farmhouse near Este, & Parco dei Colli Euganei. As we arrived, we saw a very secluded farmhouse, surrounded by vineyards, small towns, cyclists everywhere, lavender fields, fig trees, We heard Italian sounds, church bells, roosters, and smells of fresh expresso, with the odd natural food smells.  After arriving in Italy, we began to understand why there is a reason that Italian food exists in every corner of the planet! The positive food vibe is everywhere here, it just feels very natural, casual and non-intimidating, not to mention fresh and creative, in every corner you turn. It must be in the soil!.
As we got oriented in our intimate farmhouse, and its charming beauty, we see these lavender bushes that were beaming with life. There were many varieties of bees & butterflies in addition to hummingbirds, the lavender bushes were humming with sounds of nature. It was very special.
The next day, we visited my partner's godfather on the other side of this Parco Euganei, incredible area, of natural beauty, feels like Tuscany, without the tourists!   Over the next few days, we actually managed to rest at the farm, visit Venice by train, (from Montegrotto Terme), visit my partner's hometown, the capital of Prosciutto, – San Daniele, which is a city in the Friuli area.  I always find Italy very original, restful, picturesque, and real.
In our last week, we visited many small towns around Padua, had dinner at our favorite restaurant Trattoria Da Sgussa, in Faedo, enjoyed our farmhouse splendor and got ready to leave from Venice airport for our journey back to Toronto.
European takeaways: 
Communicate and dialogue more
Listen to yourself and others more carefully
More social media & tech breaks
Have face to face communication more often
Get to know someone different and exchange thoughts
Travel more
Be open to other ways and ideas
Do something that makes you uncomfortable
Every Country brings something special and unique to the world
Express love & kindness more
Much love,
Svitlana xo