A month ago, we left on a journey to Costa Rica, and as we were packing our bags, we knew this trip would be like no other.
As we landed, we immediately felt the chill vibe amongst all the flight passengers. We were all coming from different parts of the globe and we all simultaneously felt the same way once we hit the tarmac. We were immediately relaxed, no rushing, no arguing, fussing or anything like this – just being.
We took a shared cab to Nosara (we used GypsyCab – great service and easy to book!) On arrival in North Nosara, we were dropped off right in front of Serenity Beach House and greeted by our French hosts. It was a pleasure seeing the accommodation – right in the town of Nosara and a 5-minute walk to the beach.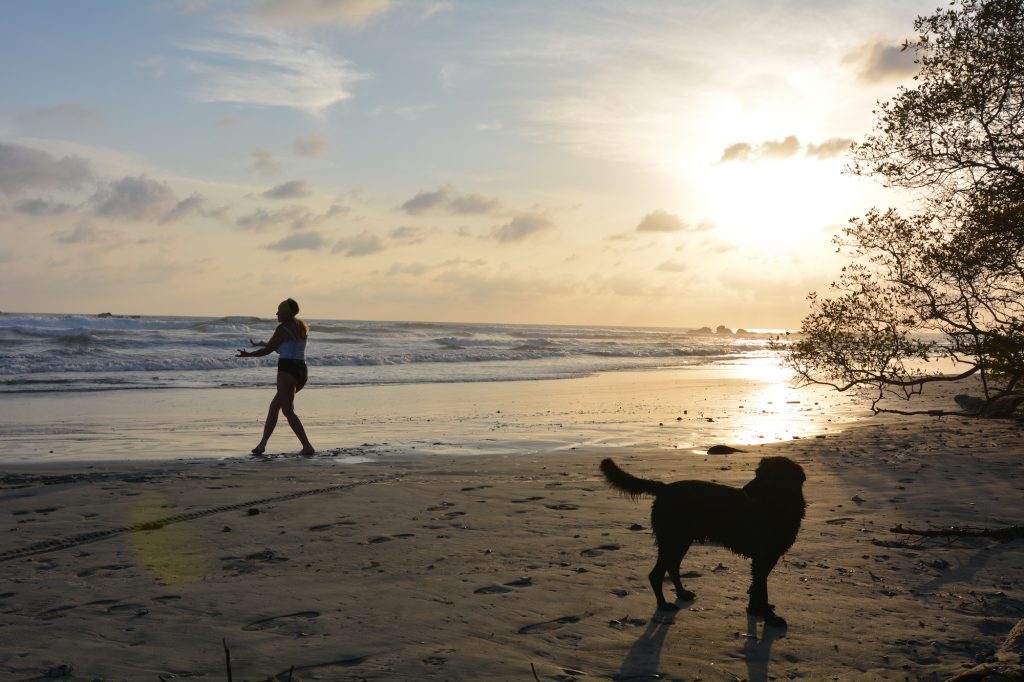 The next day, we got oriented and focused on shopping for fresh food, for our kitchen, and just walking around feeling the town and seeing how everything fits together.  Lots of fresh, mangoes, pineapples, bananas, papaya, surf tourists from all parts of the world.  As we walked around, we saw plenty of folks, just arriving and unwinding.  Very different from an all-inclusive, since nothing here is artificially manufactured, we just walk the vicinity and take in everything as it is meant to be!
Day two, we walked down to Blue Spirit, literally a one hour walk on the beach, stopping along the way, for shells, fish, taking in the ocean and all the little surprises in the salt water, as it leaves its tracks in the wading pools of low tide.  
When we arrived at Blue Spirit, the lush grounds welcomed us, our first true glimpse of the howler monkeys, a whole family, trying to nap, after having fed on the mangoes. It was a spectacular sound and a special secluded feeling as we wandered thru the grounds, pools and yoga huts. We hung around the mango tree for a while enjoying the shade, sun, and sounds of nature. It felt special as we took some pictures and threw some coconuts around – I actually got passionately attached to one coconut, and carried it with me back to Nosara.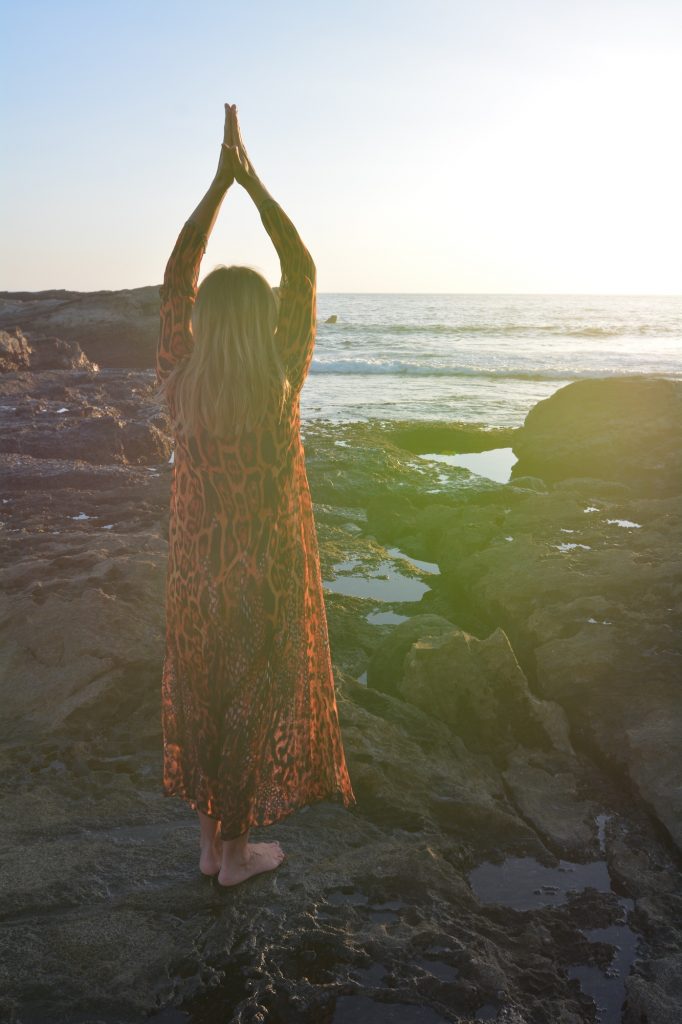 The next few days are honestly a blur, as we immersed ourselves in meeting new people, reading, writing, hiking and going for long walks on the beach – as we explored many little beach spots that get hidden by the tide. Most of the areas are reasonably unspoiled, in comparison to North American vacation spots, that have loads of people wandering and forcing themselves on the habitat with their own habits.
The balance of our time, was spent walking, hiking and more walking, never made it to one yoga class, or surf lesson), will have to be next time, and for this trip, we simply decided to go with the flow! Actually, we did do one yoga class at Nosara Wellness!
We did notice a lot of families, without cell phones at dinner, and just doing the old fashioned talking and actually joking, playing cards. Very rarely, did we see a lot of tech interference at dinner, even though, there is wifi everywhere in Costa Rica.
Our favorite part was sunset at the beach, and every night, was a radically different sunset and tide pattern. We were completely fascinated by the sand crabs that worked so hard every day, to make their nest in the beach underground, only to be covered again by the water. The beach patterns and the amount of sand moved by these little creatures was astounding!!!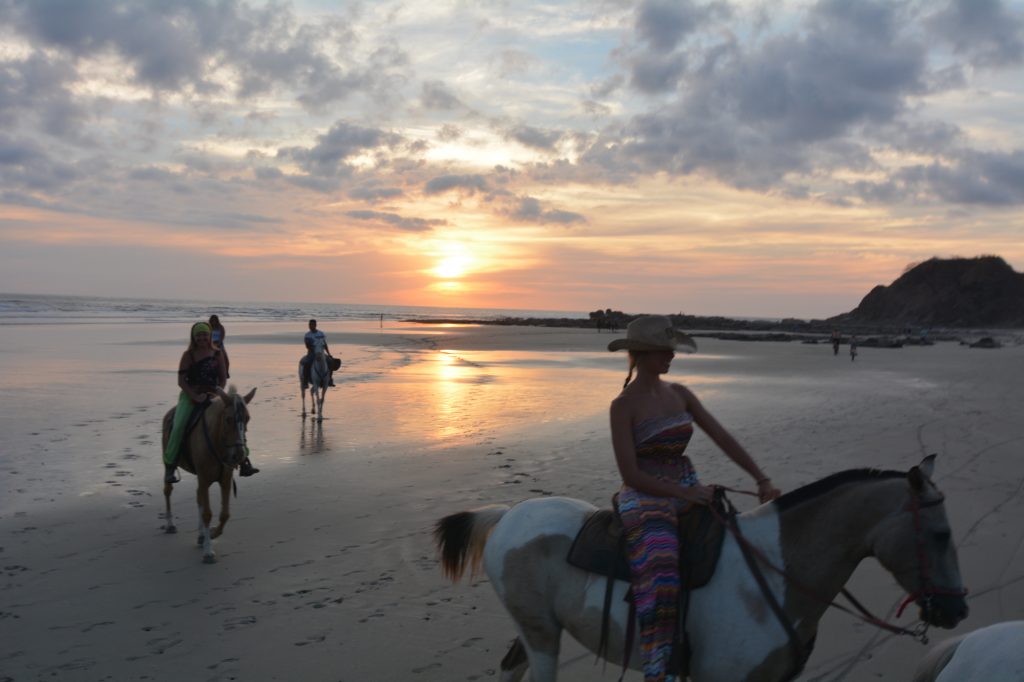 On the food side, there are many interesting food experiences, and mostly very healthy and organic. We visited Robin's Cafe, LaLuna (best sunset in Nosara), Harmony Hotel Restaurant, Burgers and Beer, Pacifico Azul (numerous times), Nosara Bagel House, Kayasol and Jasmin's Kitchen.
Nomadic Nosara, Nalu Nosara, and Vivo Nosara are the locations of choice for our retreats In Costa Rica, Nosara area, they have been chosen, due to their personal and intimate nature that our couples and singles retreat participants will experience.
As we ended the 11 days, we were sad to leave this breathtaking country and all that it offers, in its pristine, positive and sacred environment. We will return soon, precious one & highly recommend the area of Nosara, Costa Rica to anyone looking for rest and recharge! Contact us if you'd like any more details on where to stay or go in Nosara.
Much love,
Svitlana & Robert